ScrubPac™ VentClean™ System for Tank Vent Scrubbing
Overview
Bionomic Industries exclusive VentClean Scrubber is specifically designed to scrub storage tank and railcar vent emissions caused by breathing and filling operations, and is the latest edition to our enormously successful ScrubPac™ family of "packaged" scrubber systems.
Due to its unique design, the versatile VentClean can handle single as well as multiple sources with large variations in venting rates with equally high removal efficiency.
VentClean is available in four model sizes L, M, H, and EH to handle gas capacities from 0 to 1500 acfm. Available in two unique operating configurations, VentClean easily adapts to a variety of scrubbing liquid preferences. Type 1 is economically priced and configured to use water on a once-through basis. Type 2 incorporates a special circulation pump and uses water at a reduced consumption rate, or a chemical reagent such as sodium hydroxide on a recirculated batch basis.
Features
Compact, HIGHLY Efficient Scrubber Design can achieve over 99% removal efficiency to meet or exceed EPA and state regulation requirements.
The first "complete" Vent Scrubber Package available to industry at an attractive price
Super tough corrosion resistant construction for long lasting in-field operation
Low pressure drop scrubber design to avoid dangerous over-pressurization of fiberglass and plastic storage tanks
55 gallon reservoir capacity on model sizes L and M, 125 gallon capacity for Model H and 325 gallon capacity for Model EH, enables using chemical reagents for batch scrubbing or to concentrate and recover product
A versatile choice of VentClean types using once-through water, recirculated water, or chemical reagents for maximum scrubbing solution flexibility
A complete line of accessories to meet your exact installation needs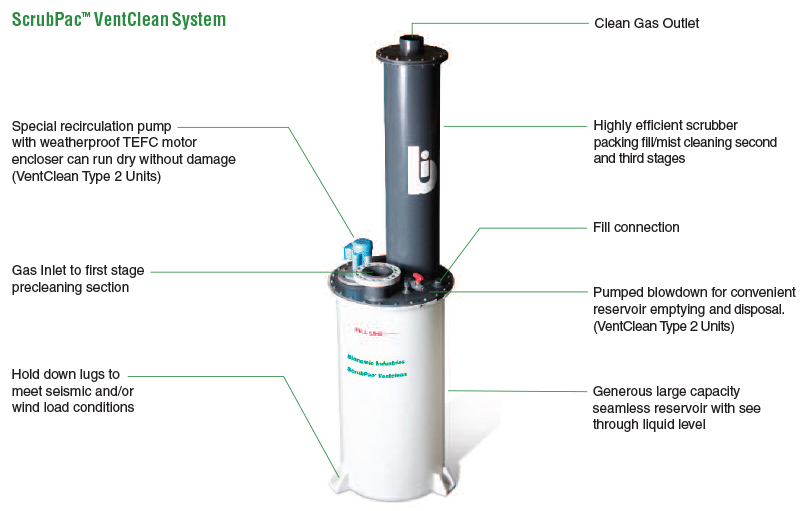 Typical Applications
VentClean on Hydrochloric Acid Tank Service
Removing or recovering hydrochloric, hydrofluoric, nitric, sulfuric, acetic and other acids, sodium bisulfite, alcohols, formaldehyde, amines, phenol and nearly all other water-soluble contaminants
Removal of fine mists generated during pneumatic unloading operations
For a more complete listing of the applications suited for the VentClean™ Scrubber System, please visit our Industries/Applications section.
Please click here for pdf of the Bionomic Air Pollution Control, Product and Heat Recovery Systems Guide.